10
Oct
Quest II – 'Night Creeper' out now!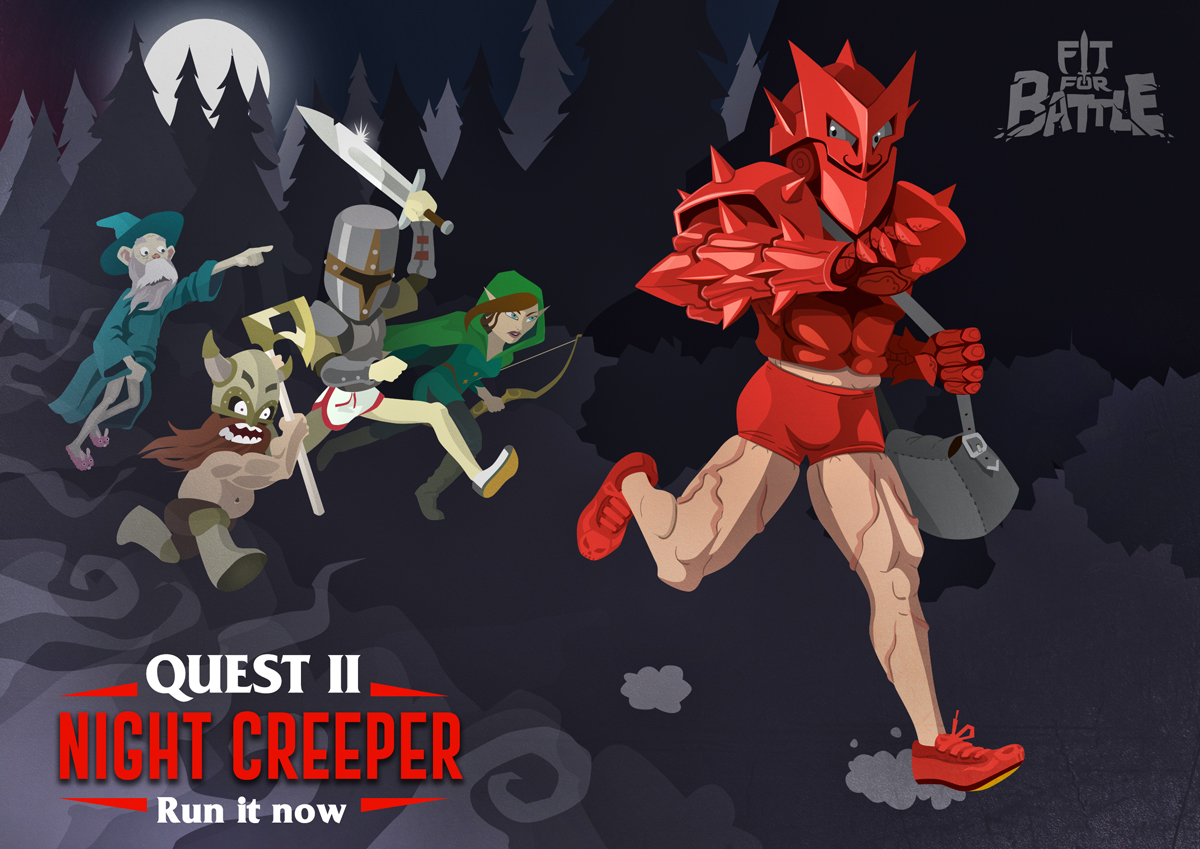 NIGHT CREEPER IS FINALLY HERE!
If you are reading this, no doubt you have been patiently waiting for Fit for Battle's 2nd quest to drop. If you don't know anything about the game - you are in for a treat! Download the update
HERE
is you haven't done so already. Without giving away too many spoilers, here are some things to be aware of, as well as a bunch of awesome features that are being released for the Quest II update.
---

A NEW VILLAIN
Who is the red man? How does he squeeze into those evil hotpants? What is he doing with
MY
doomsday weapon?!! Fit for Battle has a new villain on the scene and he is joyfully hatable. You'll just want to punch him right in the voicebox. This quest is one giant chase scene, with the man in red as your quarry. Catch him- the fate of the world may be at stake.
---

WHO DO I HAVE TO SLAY TO GET SOME LOOT AROUND HERE?
To add to the slayer beastiary, we have added 8 new killable monsters as well as a bunch of non killable monsters. Each monster comes with its own loot kit and hours of glorious battle! As we move through the Fit for Battle saga- monsters are getting bigger and badder. Some even require magic to defeat. Have fun collecting heads!

---
THE APP HAS IMPROVED & HERE'S HOW
To coinside with the release of our 2nd quest we have improved many of our existing features, as well as added a few new ones to make your battle career even better.
Difficulty settings We have overhauled the difficulty and also added a 'NO INTERVAL' mode that allows you to have a cruiser run, or is ideal for treadmills and late-model iphones.
Resurrection Make death a thing of the past. Now when you die you have the ability to spend your hard earnt mana to continue the battle.
Run Reminders Now you can set reminders to help you set up a regular run routine
Character page design The avatar page has had a face lift, with way more options provided, including our new AR background feature, that lets you place your character over a live camera so you can place them anywhere in the world (Thank you PokemonGO). We have also introduced armour sets for the collectors, and a randmoniser option for when you just can't decide what to wear - It happens to us all.
Massive amount of new loot items and market equipment Your character will be strutting the streets in the hottest eclectic fashion to come out this last half millenia. In summary: Your character will look even more awesome.
Get social! We have created more options for you to be able to flaunt your progress and tell friends about the app. We now support Facebook, Twitter and Instragram. This is about you connecting with friends as supporting one another on everyone's fitness journey.
---
What are you waiting for? It's out now, stop reading already and get running!

Comments are closed.